Friday, May 12, 2023 / by Zdenek Tronicek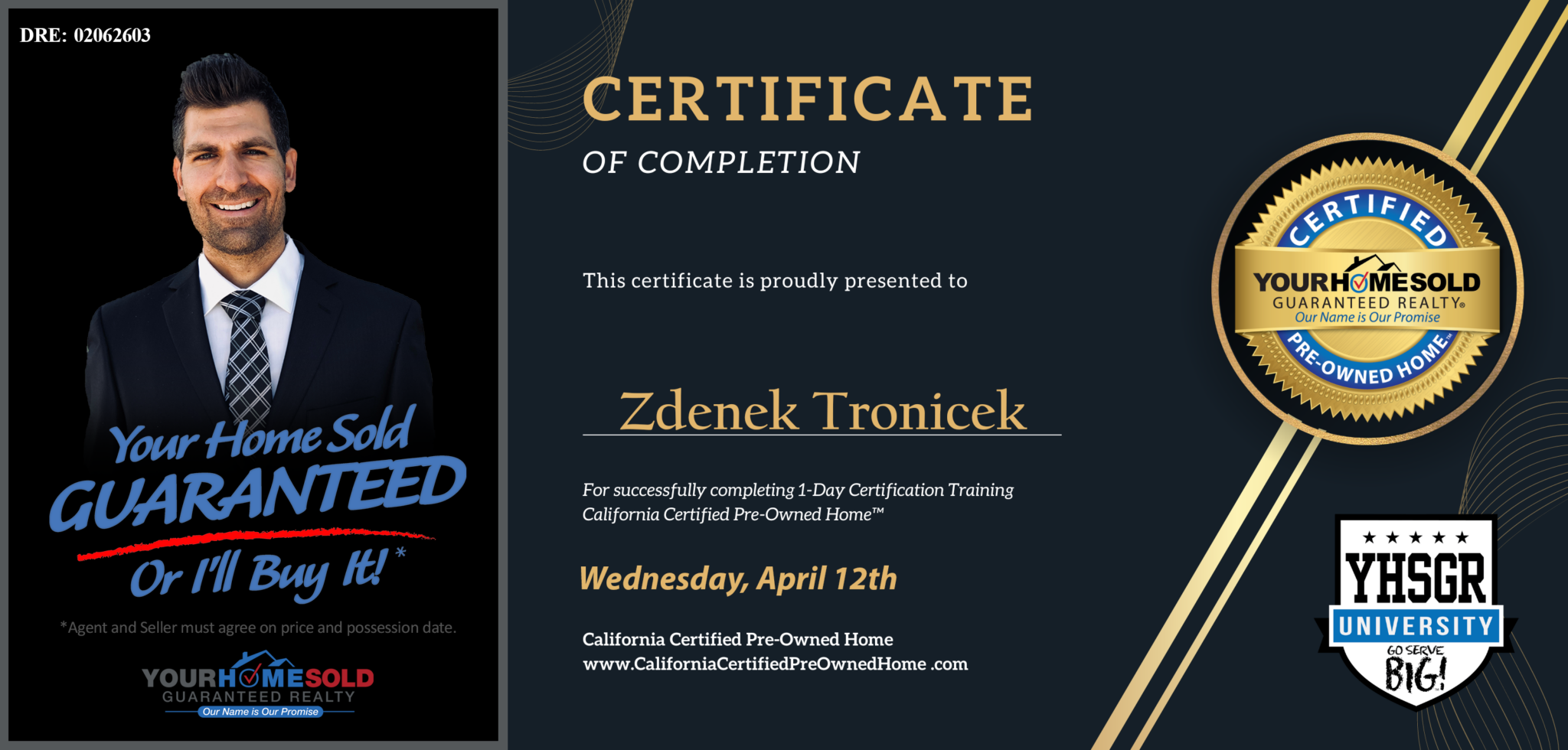 May 3, 2023 - ORANGE COUNTY, CA, UNITED STATES, Zdenek Tronicek of Your Home Sold Guaranteed Realty has recently completed the Certified Pre-Owned Home™ (CPO) Agent Certification. This certification allows him to offer additional benefits to his clients, such as pre-listing home inspections, termite inspections, and a seller warranty, among others. With this certification, Zdenek can now advertise his clients' homes as a Certified Pre-Owned Home™, providing them with additional peace of mind and value to their homes.
CPO homes sell faster and for more money, with less hassle for both the seller and buyer. Zdenek's dedication to his clients is unmatched, and completing the CPO Agent Certification is just one way he's going above and beyond to help them. In addition to the benefits mentioned above, Zdenek can also provide his clients with a free appraisal report for both buyers and sellers of a Certified Pre-Owned Home™, ensuring that buyers can secure loan approval and sellers can be confident that they're getting the best price for their home.
Zdenek Tronicek, originally from Prague, Czech Republic, has been fascinated with real estate for the past 16 years. He sees real estate not only as a way to invest money but also as a means to help families achieve financial freedom. Zdenek's commitment to his clients is unparalleled, and his completion of the CPO Agent Certification is a testament to his dedication to providing them with exceptional service.
Your Home Sold Guaranteed Realty is proud to have Zdenek Tronicek on their team, offering additional benefits to their clients with the CPO Agent Certification. If you're looking to buy or sell a home, reach out to Zdenek for expert assistance. You can contact him at 714-369-0896 or ztronicek@YourHomeSoldGuaranteed.com, or visit his website at https://yourhomesoldguaranteed.com/agentdirectory/zdenek-tronicek/.