Friday, September 22, 2023 / by Zdenek Tronicek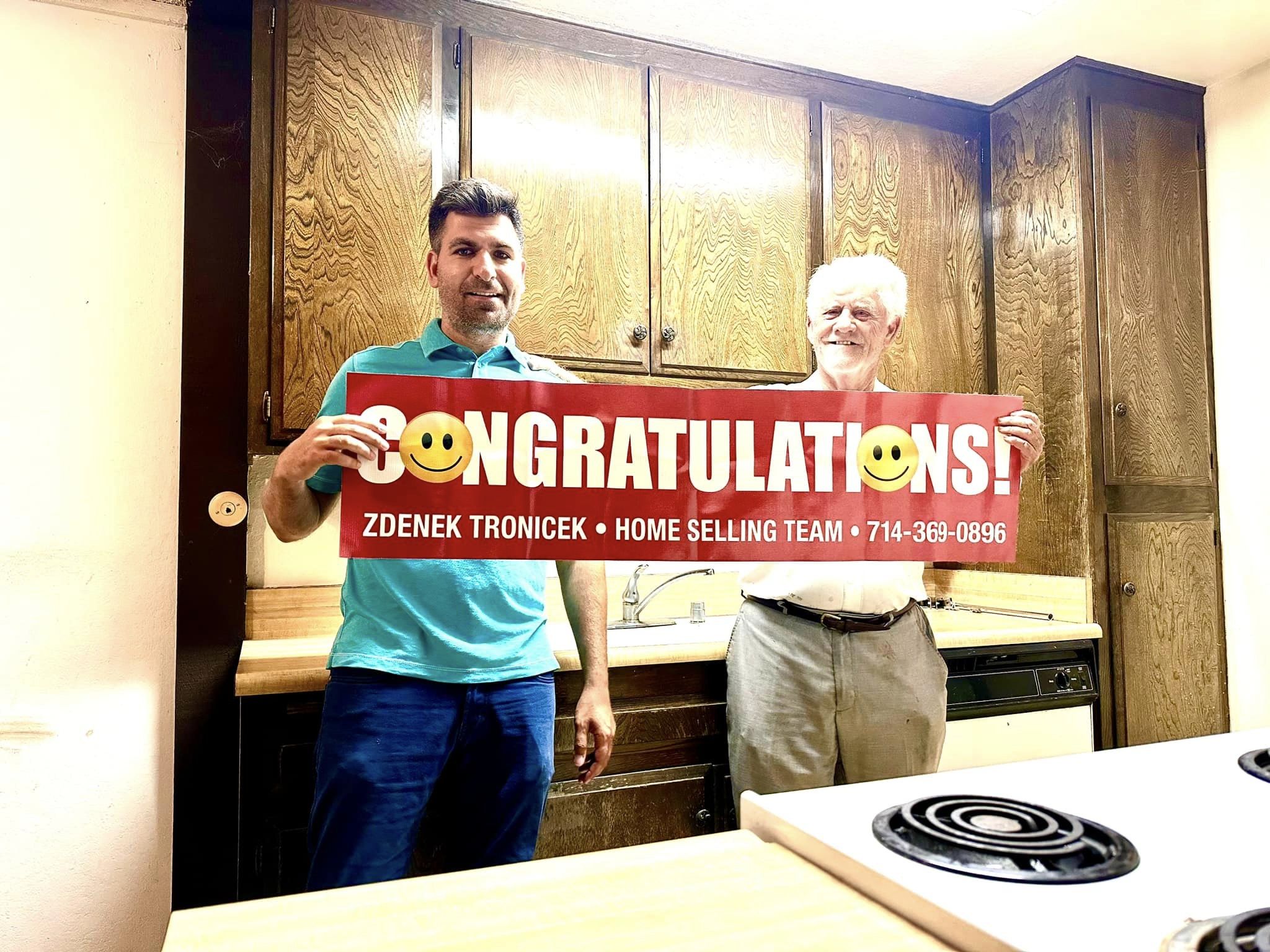 Orange County, September 22, 2023 - Wednesday marked a significant day in Ken Ferguson's life—a day of excitement, relief, and accomplishment. After a series of unsuccessful attempts to sell his property with a different agent, Ken reached out to a real estate professional who promised a different approach: Zdenek Tronicek, the man behind the guaranteed sale program that has been turning heads in the industry. In this blog, we'll explore the story of Ken Ferguson and how he managed to sell his seemingly unsellable home with Zdenek's help. If you've ever wondered how to sell a home that didn't sell, this story might hold some valuable lessons.
The Initial Challenge
Selling a home is no walk in the park. It's a life event that often comes with its fair share of stress and uncertainty. Ken Ferguson had experienced this firsthand when he first tried to sell his home with another agent. Despite his best efforts, the property just wouldn't budge. Frustration and disappointment loomed over him as he faced the daunting possibility of being stuck with a property he no longer wanted or needed.
A New Approach
Ken's turning point came when he heard about the exclusive GUARANTEED SALE PROGRAM offered by Zdenek Tronicek and his team. The promise was simple yet powerful: they would guarantee the sale of his home or buy it themselves. Intrigued by this bold offer, Ken decided to give it a shot. He knew he needed a fresh approach, and Zdenek seemed to have just the solution.
The VIP Seller System
Ken was plugged into the VIP SELLER SYSTEM, a carefully crafted strategy designed to maximize the chances of selling a property quickly and at a favorable price. This system leveraged Guarantee Cash Offers, a key component that would prove instrumental in Ken's success story.
Multiple Offers in Record Time
The results were astonishing. Within just a couple of weeks, Ken's property began attracting multiple offers. The once seemingly unsellable home suddenly became a hot commodity in the real estate market. The pinnacle of this transformation was reached when Ken's home was sold and closed at an impressive 97% of the asking price. It was a moment of triumph that Ken had been waiting for, and it was all thanks to the innovative approach of Zdenek Tronicek.
Lessons Learned
Ken Ferguson's journey serves as an inspiring example for anyone facing the challenge of selling a property that seems impossible to move. It demonstrates the importance of thinking outside the box and seeking alternative solutions. Zdenek's GUARANTEED SALE PROGRAM is a testament to the power of innovation in real estate. Ken's story reminds us that even when life throws uphill battles, surprises, and challenges our way, there are professionals like Zdenek Tronicek who are dedicated to serving their clients and helping them overcome these hurdles.
Conclusion
Selling a home that didn't sell might sound like an insurmountable task, but Ken Ferguson's success story is a testament to the fact that with the right approach and the right team behind you, it's entirely possible. Zdenek Tronicek and his GUARANTEED SALE PROGRAM not only helped Ken sell his property but also restored his faith in the real estate market. If you're facing a similar situation or simply want to explore new options for selling your home, consider reaching out to professionals who are willing to go the extra mile. Ken's story proves that a successful sale is not just a dream; it can become a reality.
So, if you find yourself wondering how to sell a home that didn't sell, take a page from Ken Ferguson's playbook and remember that innovative solutions and dedicated professionals can make all the difference. Give Zdenek Tronicek and his team a call at 714-369-0896 or visit www.ZHasTheBuyers.com for guaranteed cash offers and a fresh perspective on selling your home. With 168 eager buyers in the area, your next step could be packing your bags and embarking on your own successful home-selling journey.

ZDENEK TRONICEK
YOUR HOME SOLD GUARANTEED
714-369-0896