Wednesday, October 5, 2022 / by Zdenek Tronicek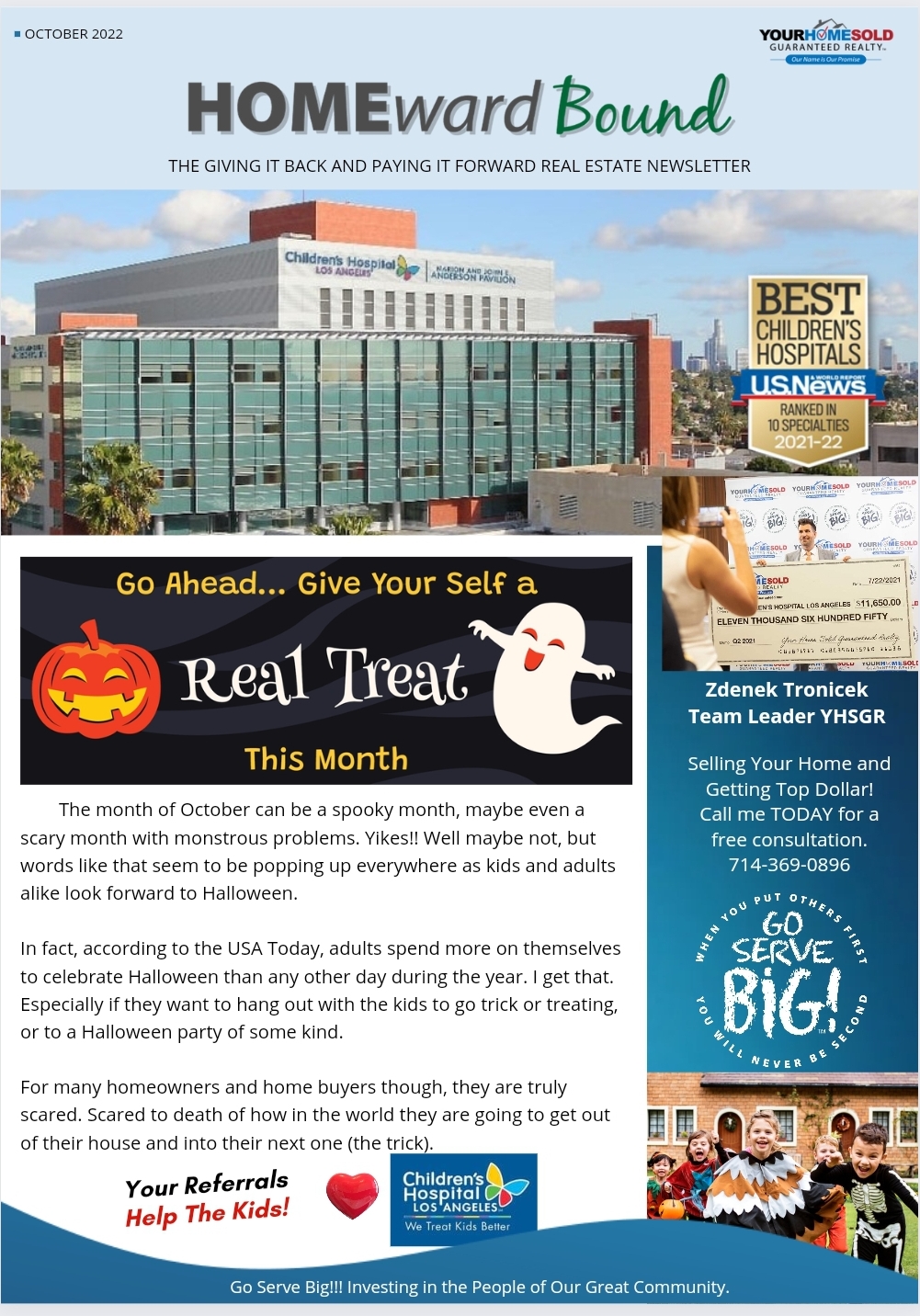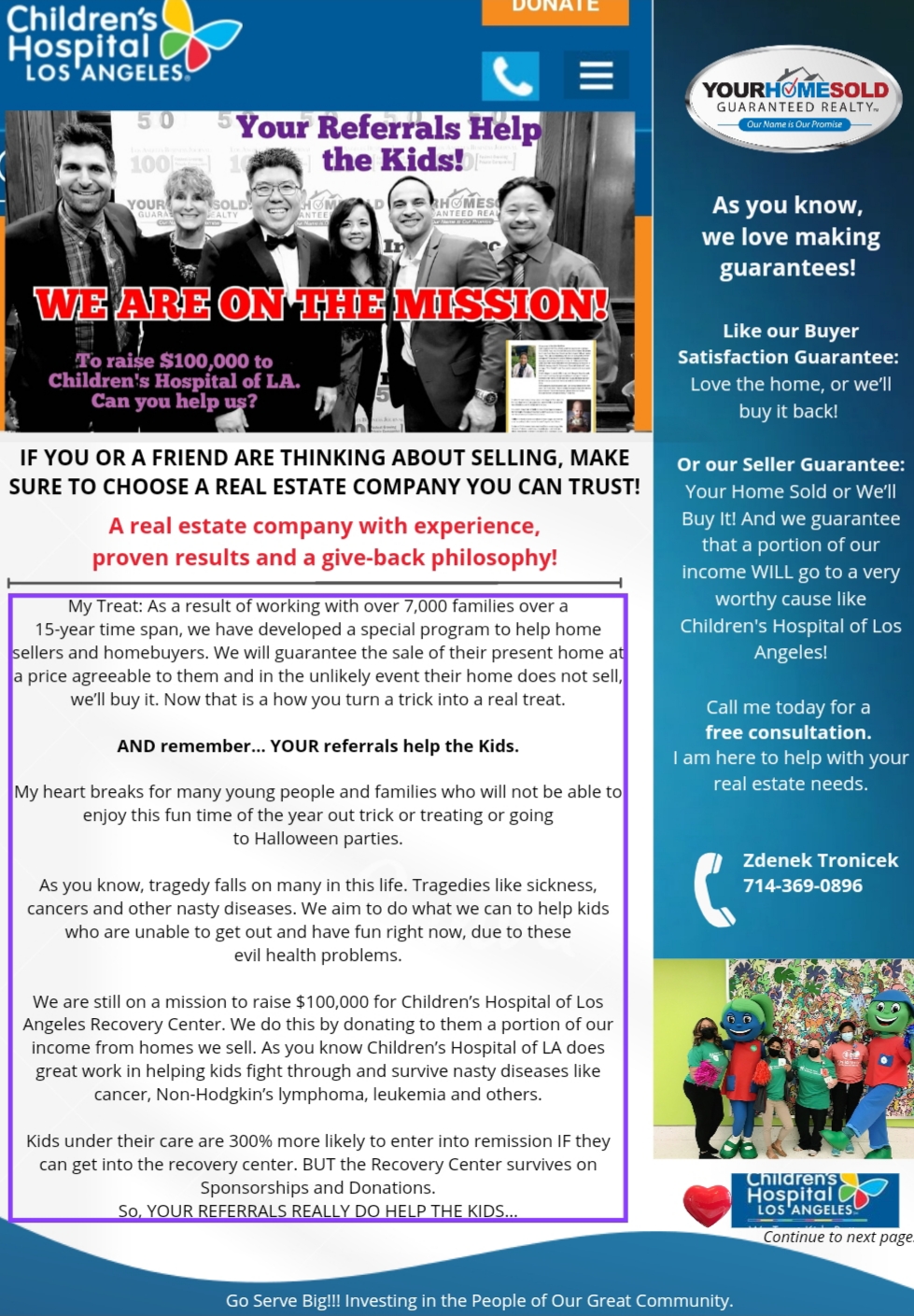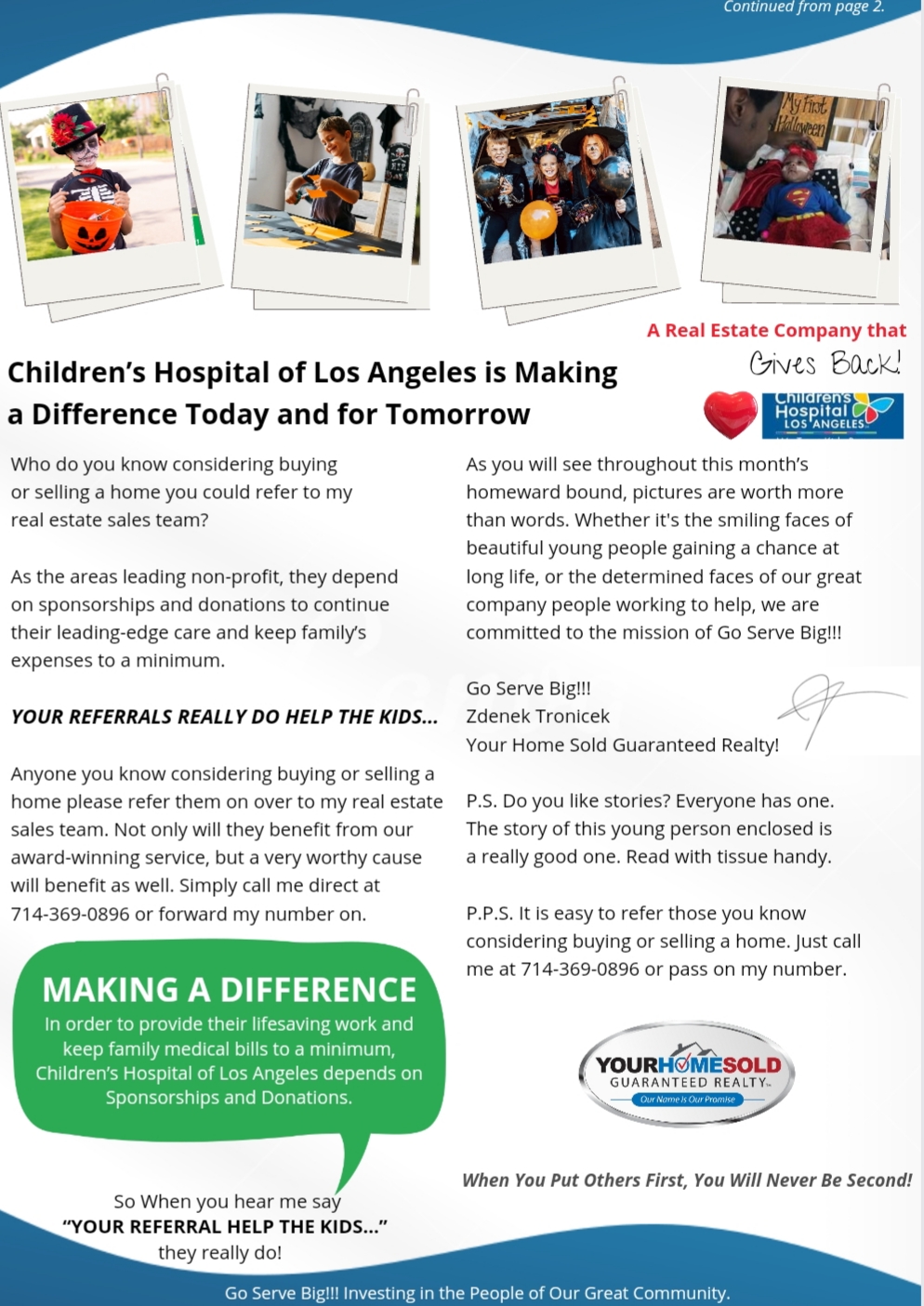 The month of October can be a spooky month, maybe even a scary month with monstrous problems. Yikes!! Well maybe not, but words like that seem to be popping up everywhere as kids and adults alike look forward to Halloween.
In fact, according to the USA Today, adults spend more on themselves to celebrate Halloween than any other day during the year. I get that. Especially if they want to hang out with the kids to go trick or treating, or to a Halloween party of some kind.
For many homeowners and home buyers though, they are truly scared. Scared to death of how in the world they are going to get out of their house and into their next one (the trick).
You may recall my team and I are on a mission to raise $100,000 for Children's Hospital of Los Angeles (CHLA) in 2022. We do that by donating a portion of our income from home sales to this very worthy cause.
Right now, there are kids at CHLA who are trying to beat the Cancer Monster and other nasty debilitating diseases. Children's is one of the best non-profit hospitals at treating kids, even leading the way in early diagnosis of autism and recovery of spinal cord injury. The Mom's with kids being treated at Children's are most likely NOT thinking about their special day this month.
This year, we are on a mission to raise $100,000 for Children's Hospital of Los Angeles. We do this by donating to them a portion of our income from homes we sell.
So, when you or anyone you buy or sells the place they call home with us, we deliver on our exclusive guarantees and award-winning service AND a very worthy cause benefits as well.
Children's Hospital of Los Angeles is Making a Difference Today and for Tomorrow
The reason for the headline is because 30 seconds is about all it takes to think about who you know that may be considering buying or selling the place they call home and to give us a call. If it is you, then awesome! If it's a friend or family member, that's great too!
So When you hear me say "YOUR REFERRALS HELP THE KIDS…" they really do!
REFER YOUR FAMILY & FRIENDS:
I want to make it easy to refer your friends, neighbors, associates or family members considering making a move, so here are your options:
You can go to www.findsocalhome.com/contact

and enter their contact info on line or forward the link to who you know considering a move.

Of course you can always call me direct as well at

714-369-0896.
Over the last two decades of helping thousands of families sell their home and/or buy another, we have met some wonderful, loving, caring people. People like you! So your referrals, those you know considering a move, that we help – you can rest assured that not only will they get the award winning service we are known for and the guarantee to back it up, but that a solid portion of the income we receive from the transaction will go toward a very worthy cause.
Over the decades of helping thousands and thousands of families sell or buy the place they call home, we have met so many wonderful, loving, caring people. We are so grateful. Thank you for reading over this months Homeward Bound, and thank you for referring anyone you know considering buying or selling to my team.
With all my appreciation.
Go Serve Big!!!
Zdenek Tronicek
Your Home Sold Guaranteed!
Like Our Buyer Satisfaction Guarantee: Love The Home, Or We'll Buy It Back! Or Our Seller Guarantee: Your Home Sold Or We'll Buy It! And We Guarantee That A Portion Of Our Income WILL Go To A Very Worthy Cause Like Children's Hospital Of Los Angeles!
Call me today for a free consultation. I am here to help with your real estate needs.
Zdenek Tronicek
714-369-0896
ZTronicek@YourHomeSoldGuaranteed.Com
Contact Us
Your Home Sold Guaranteed Realty
8932 Mission Drive, Suite 102
Rosemead, CA 91770
714-369-0896
ZTronicek@YourHomeSoldGuaranteed.Com
Visit Us On The Web At
Www.FindSoCalHome.Com