Tuesday, October 29, 2019 / by Zdenek Tronicek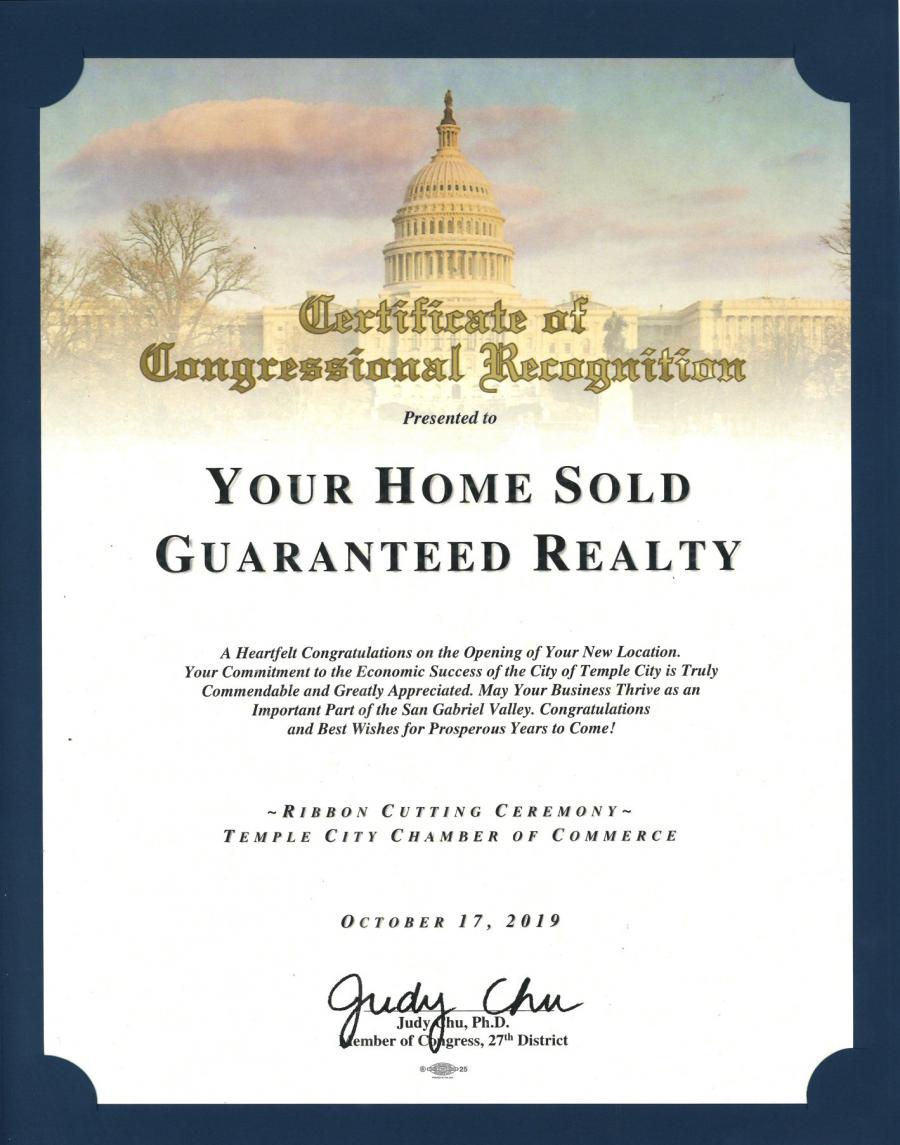 Your Home Sold Guaranteed is leading the pace when it comes to ethical, transparent, 'win-win', real estate transactions in the extended Los Angeles and Orange County, California-area. In exciting news, this ethos has been recognized by state Congress.
ROSEMEAD, CALIFORNIA, UNITED STATES, October 29, 2019,– Leading the way in building a remarkable, positive reputation in the Greater Los Angeles and Orange County real estate area in Your Home Sold Guaranteed. Using a client-friendly model, which helps remove unnecessary middlemen and surprise fees from the equation, Your Home Sold Guaranteed recently announced they have received a number of different awards. The first, which the company is extremely proud of, is a "Certificate of Congressional Recognition".
"It is good to see our hard work and efforts to do business in a better way be recognized," commented a spokesperson from the office. "We are very honored and grateful, and will be displaying the certificate for all who come in our offices to see!"
The Certificate of Congressional Recognition was presented to Your Home Sold Guaranteed Realty, signed by Judy Chu, P.h.D., Member of Congress, 27th District at their office located at 8932 Mission Dr. Suite 102, Rosemead, CA 91770.
Your Home Sold Guaranteed Realty Inc. is an award-winning real estate company located in Rosemead, California which provides exceptional and reliable services in the real estate industry. The real estate team both buys and sells residential and commercial properties. Headed by Rudy Lira Kusuma, the CEO of the company, they have built its name in the field of real estate and management through the good feedbacks and numerous recognition they received throughout the years of their service.



Zdenek Tronicek
DRE 02062603
TEAM LEADER YHSGR
Your Home Sold Guaranteed Realty